Pre-study communication.
Dear Brothers and Sisters in Christ,
Our Lady of Guadalupe is a vibrant parish that has served the Catholic faithful in the St. Paul area for 90 years. Over 700 families strong, we are a thriving, growing and bi-lingual parish, proud of our designation as a shrine to Our Lady of Guadalupe. Parish leadership has identified important major projects to keep our parish strong in the decades ahead:• enhance our shrine• relocate and renovate the parish office• enhance worship experience and increase capacity of the church• renovate the rectory• put in a new parking lot• reduce parish debt
Now we need your feedback. Starting August 2, we will begin a comprehensive survey of our entire parish community. The survey will tell us which projects are considered most important and gauge support for a potential major fundraising campaign. The survey is part of a process called a planning study. In the coming weeks, we will share more details about the study, the projects and about the possibility of a major fundraising effort to pay for all, or some, of the projects.
Your participation in the survey is essential for the success of this planning process.
Gratefully,
Fr. Andrew Brinkman
Pastor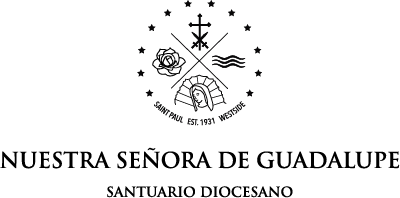 Queridos hermanos en Cristo,
Nuestra Señora de Guadalupe es una parroquia vibrante que ha servido a los fieles católicos en el área de Saint Paul durante 90 años. Con más de 700 familias sólidas, somos una parroquia próspera, bilingüe y en crecimiento, orgullosa de nuestra designación como santuario de Nuestra Señora de Guadalupe. El liderazgo parroquial ha identificado importantes proyectos para mantener fuerte a nuestra parroquia en las próximas décadas:• Mejorar nuestro Santuario• Reubicar y renovar las oficinas parroquiales• Mejorar la experiencia de adoración y aumentar la capacidad de la Iglesia • Renovar la Rectoría/Casa Parroquial• Disponer de un nuevo estacionamiento • Reducir la deuda parroquial
Ahora necesitamos sus comentarios. A partir del 2 de agosto, comenzaremos una encuesta con toda nuestra comunidad parroquial. La encuesta nos dirá qué proyectos se consideran más importantes y evaluará el posible apoyo para una importante campaña de recaudación de fondos. La encuesta es parte de un proceso llamado estudio de planeación. En las próximas semanas, compartiremos más detalles sobre este estudio, los proyectos y sobre la posibilidad de un gran esfuerzo de recaudación de fondos para pagar todos o algunos de estos proyectos.
Su participación en la encuesta es esencial para conseguir el éxito de este proceso de planeación.
Con agradecimiento,
P. Andrew Brinkman
Pastor