Study Communication Aug 7-8
Dear Brothers and Sisters in Christ,
This week we began conducting a comprehensive survey of our entire Our Lady of Guadalupe family. This planning study will enable us to determine potential support for a major fundraising effort.
I am asking all of you to share your thoughts regarding these plans. Over the next several weeks, everyone will have the opportunity to participate in a brief interview or to complete a survey. If we have your cell phone number, be on the lookout today for a text link, inviting you to fill out a survey. Over the next 2 weekends, surveys will be available for those who haven't filled one out yet. The completed surveys can then be placed in the offertory baskets or returned to the parish office.
After all of this information is compiled by the Steier Group, our development firm, and presented to us, we will make an informed decision on how to address our needs.
I believe that this process is extremely important and I encourage all of you to participate. Your input is valuable as we plan for the future of Our Lady of Guadalupe.
Gratefully,
Fr. Andrew Brinkman
Pastor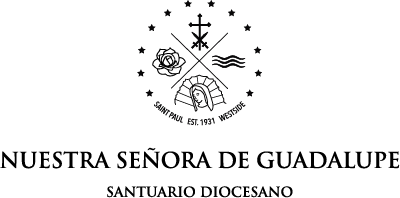 Queridos hermanos y hermanas en Cristo:
Esta semana comenzamos a realizar minuciosas encuestas a toda nuestra familia de Nuestra Señora de Guadalupe. Este estudio de planeación nos permitirá determinar el apoyo potencial para un esfuerzo importante de recaudación de fondos.
Les pido a todos que compartan su opinión con relación estos planes. Durante las próximas semanas, todos tendrán la oportunidad de participar en una breve entrevista o completar una encuesta. Si tenemos su número de teléfono celular, esté atento, hoy recibirá un enlace de texto que lo invitará a completar la encuesta. Durante los próximos 2 fines de semana, las encuestas estarán disponibles para aquellos que aún no hayan completado una. Las encuestas ya realizadas en papel pueden colocarse en las canastas del ofertorio o devolverse a la oficina parroquial.
Después de que el Grupo Steier, nuestra empresa de desarrollo, recopile toda esta información y nos la presente, tomaremos una decisión informada sobre cómo abordar a nuestras necesidades.
Pienso que este proceso es sumamente importante y los animo a todos a participar. Su opinión es valiosa mientras planificamos el futuro de Nuestra Señora de Guadalupe.
Con agradecimiento,
P. Andrew Brinkman
Pastor