Our Lady of Guadalupe Church was founded in 1931 by a small group of Mexican immigrants from the local community. Today our community continues to grow and thrive through the support of our parishioners. For more information about our church or to learn how you can get involved, contact us at info@olgcatholic.org.
We are a bilingual church offering mass and confession in English and Spanish. For questions relating to Sacraments, please contact our parish office.
For more information on our church, volunteer opportunities, or Sacraments, please contact us.
Sign up for Mas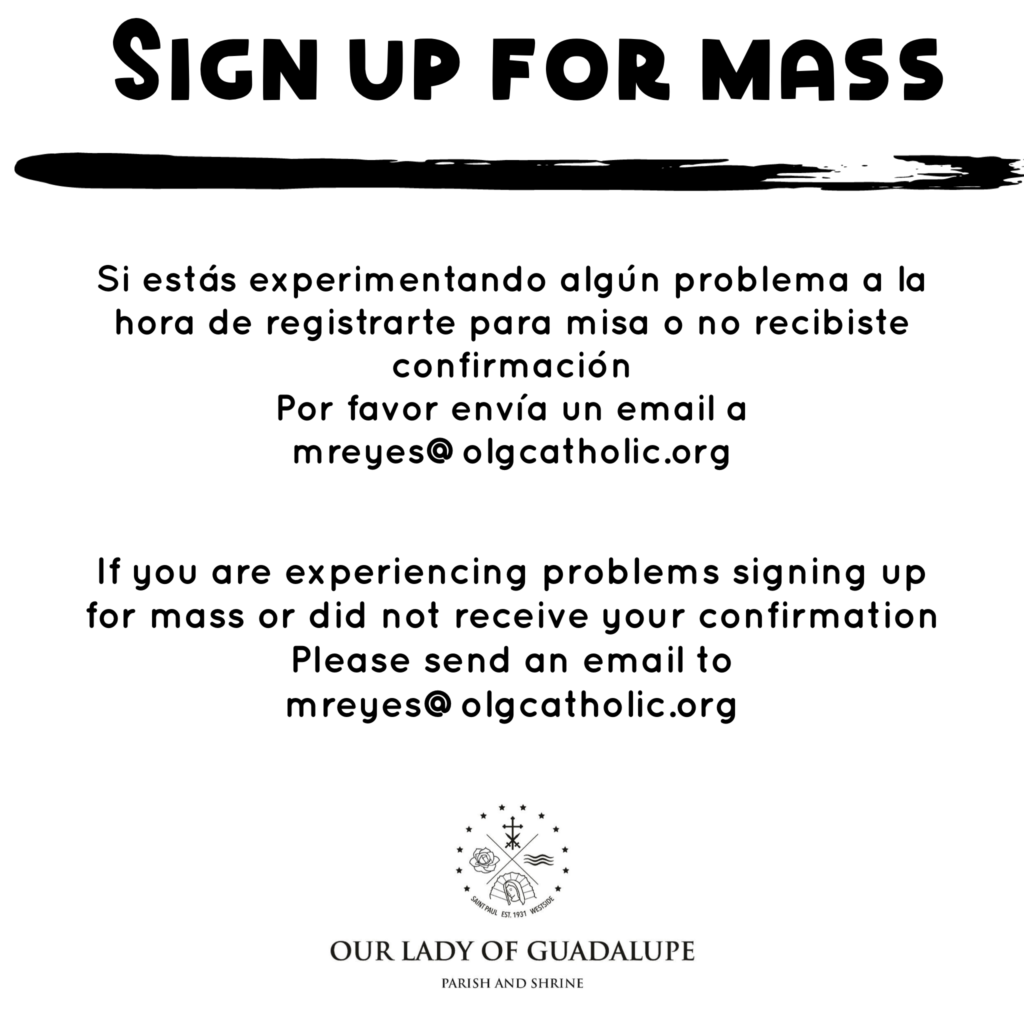 Effective today, July 13, 2020, you no longer need to pre-register for the daily Masses. However, due to the number of people attending Mass on Sundays, we do need you to continue to sign-up for the three Sunday Masses. Please continue to pray for an end to the Coronavirus. And pray also for the leaders of our country, states and cities, that they will find a solution that allows us to re-open our churches ever more widely! St. Roch…Pray for us!
A partir de hoy, 13 de julio de 2020, ya no es necesario registrarse previamente para las Misas diarias. Sin embargo, debido a la cantidad de personas que asisten a misa los domingos, necesitamos que continúe inscribiéndose para las tres misas dominicales. Continúe orando por el fin del Coronavirus. ¡Recemos también por los líderes de nuestro país, estados y ciudades, para que encuentren una solución que nos permita reabrir nuestras iglesias cada vez más ampliamente! San Roch … ¡Ruega por nosotros!
Sunday mass, August 16th
https://ourladyofguadalupechurc4.flocknote.com/signup/10307
Sunday mass, August 23rd
https://ourladyofguadalupechurc4.flocknote.com/signup/11300
Our YouTube channel.
Live stream masses .
https://m.youtube.com/channel/UCawnVkw3kb5TIUtiAxY89Xg?view_as=subscriber
Online Giving
To Donate please click here. Thank you!

Fr. Andrew podcast
You can listen to Fr. Andrew podcast by clicking in the following link.
https://podcasts.apple.com/us/podcast/el-canal-guadalupano/id1506197651?l=es
Weekly Parish Bulletins
Our weekly parish bulletins are available for download. Click here to view bulletins from previous weeks.